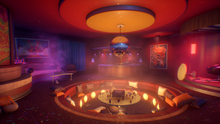 The Wonderland Suite is the hotel room that Nick Lightbearer resides in during the events of the Lightbearer DLC. It is here the player will end up in after each segment.
Nick will wake up with a new woman next to him, the first one is a random woman who is actually Nick's ex-agent, the second one is Belinda, and the third one is Kitty Bates.
The whole room is trashed, with bottles, cloth scraps and empty pill bottles found throughout the room.
Alarming Lyrics (Part I)
Very Alarming Lyrics (Part II)
Very Very Alarming Lyrics (Part III)
The Wonderland Suite gets its name from the term that is often used in fairy tales, often described as a wonderful place of beauty that is ultimately imaginary.
There is a camera in one of the corners that points towards the bed.
Nick doesn't want the staff to knock at his door when delivering his special supplies.
The name of the suite is well in line with the rest of the Hotel naming areas after wonderful, albeit imaginary, places. In which Wonderland is universally known as an imaginary place of delicate beauty or magical charm.

The name could also be a possible reference to Lewis Carol's novel Alice in Wonderland.
Community content is available under
CC-BY-SA
unless otherwise noted.