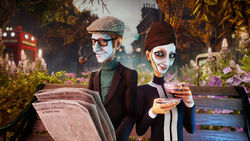 Wellies are the ternary antagonists in We Happy Few. The women are referred to as Wellettes. 
They are citizens of Wellington wells whom take their joy daily and are basically seen in Wellington Wells as law abiding citizens. The majority of them are deranged, most likely due to overusage of joy and have reverted to a childlike state and also likely due to trauma from their collective participation in "the very bad thing". Wellies can be encountered everywhere except in the Garden District. 
They commonly abuse Wastrels due to the fact they cannot take Joy. Wellies often put Joy in their own food and water. Players will need to purify the items before they are safe to consume. 
If the player acts suspicious, running, crouching, jumping, not taking your joy, attacking someone, they may run at them and attempt to knock the player out with whatever they have, including their fists. During the night (10pm to 7am), Wellies will go home to sleep. This is the best time to sneak around and steal items from their houses. They wield moderate weapons in combat like frying pans and rolling pins. The Wellies in the Parade are much more overpowered and wield The 'Sandman' and other weapons. In Ollie's Walkthrough, if a Jackobean Member attacks Ollie and the player chooses not to draw a weapon a passive crowd will gather if only Ollie's fists are up and they will only watch.