We Happy Few is an action-adventure survival horror game developed by Compulsion Games released in on August 10th, 2018. The game is available for Windows, MAC, Linux via Steam, PlayStation 4 and Xbox One. 
There were originally seven people working on the game who started building prototypes for the game in January of 2014. The studio has since expanded their team and eventually placed the game on Kickstarter. After four years of development and a delay, the game was released on the said date.
The studio describes the game as a "game of paranoia and survival, in a drugged-out, dystopian English city in 1964."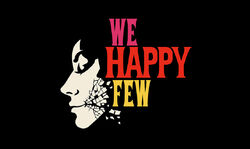 We Happy Few is about an old English town set in the alternate city of Wellington Wells. It is haunted by the ghosts of its recent past. In 1933, this world deviated from our own, and the Germans successfully invaded and occupied England during World War II. Most of England is in ruin, as is a fair part of Wellington Wells. However, during the Occupation, the Wellies all had to do A Very Bad Thing. To calm their anguish and guilt - and forget what they'd done - A miracle happy drug was invented, called Joy.
The citizens started rebuilding their town, leading areas of the town to become blended messes of futuristic technology and leftover rubble from the war. Everyone is 'happy' as long as they're taking their Joy.
There are three playable characters that serve as the protagonist of their own act, Arthur Hastings is the protagonist of Act I, Sally Boyle the protagonist of Act II, and Ollie Starkey the protagonist of Act III. Each one has their own set of characteristics and abilities.
All playable characters are known as Downers, people who can take Joy but refuse to, and no one in Wellington Wells likes Downers. The player needs to figure out how to survive in the environment without raising the suspicion that they're not taking their Joy.
They'll halso have to hunt for supplies and craft devices or weapons that'll allow them to get out of town alive. A big part of We Happy Few is NPC interaction and "hiding in plain sight", NPCs will let the player know if they're suspicious of them, as indicated by their statements. And while the player can keep taking Joy to fit in at all times, it comes with consequence.
Upon every new game or moving to the next Act, the world resets with a brand new map layout every time. Locations stay the same but are located differently, and side quests that the player didn't find before may be available.
Downloadable Content
Edit
Reception
Edit
We Happy Few received "mixed or average" reviews on Metacritic getting a metascore of 62/100 on PC,[1] 67/100 on PS4,[2] and 64/100 on Xbox One.[3] On whatoplay.com, it receives an aggregate score (playscore) of 6.75 on PC,[4] 7.46 on PS4,[5] and 7.14 on Xbox One.[6]
During the early development in 2014, the game was initially titled "Glimpse"; then, later, it was renamed We Happy Few.[7]
We Happy Few is inspired by St. Crispin's Day speech in Shakespeare's Henry V. "We few, we happy few, we band of brothers".
We Happy Few shares certain themes and plot points with the novel Brave New World and it may have a possible source of inspiration.
When coming up with the concept of We Happy Few, Whitney Clayton stated in the book, The Art of We Happy Few, that the team liked the idea of a dystopia, but she didn't want to make it into "a bleak, gloomy place where people stomp around in work suits." Hence the idea of making the game set in a Utopic-Dystopia in which everyone is focused on being happy.
It is possible to go through the entire game without ever taking Joy, with the exception of Arthur in Act I, as he is required to take the drug on two occasions during story mode.
Concept Art
Edit
References
Edit
Community content is available under
CC-BY-SA
unless otherwise noted.