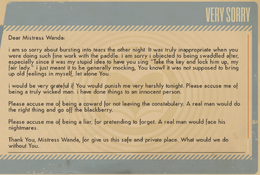 Dear Mistress Wanda:
i am so sorry about bursting into tears the other night. It was truly inappropriate when you were doing such fine work with the paddle. i am sorry i objected to being swadded later, especially since it was my idea to have you sing "Take the key and lock him up, my fair lady." i just meant it to be generally mocking, You know? it was not supposed to bring up old feelings in myself, let alone You.
i would be very grateful if You would punish me very harshly tonight. Please accuse me of being a truly wicked man. I have done things to an innocent person.
Please accuse me of being a coward for not leaving the constabulary. A real man would do the right thing and go off the blackberry.
Please accuse me of being a liar, for pretending to forget. A real man would face his nightmares.
Thank You, Mistress Wanda, for give us this safe and private place. What would we do without You.
Your devoted servant,
Bobby Hickinbotham
Community content is available under
CC-BY-SA
unless otherwise noted.