So Mod Magazine is a publication in Wellington Wells. The magazine did article an article about Sally Boyle and a whole special about Nick Lightbearer. So Mod Magazine only featured the most famous and note-worthy citizens on their covers[1] and thus both Sally and Nick were perfect as their respective issue's cover girl/boy. Sally and Nick made the cover of their issue into a poster and hung it in their homes (Sally's Interplanetary Travel Agency and Nick Lightbearer's Fab Pad).
Sally's Issue's Cover Lines
Edit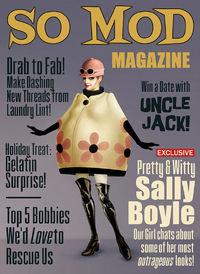 Pretty & Witty Sally Boyle - Our girl chats about some of her most outrageous looks!
Win a Date with Uncle Jack!
Drab the Fab! - Make Dashing New Threads from Laundry Lint!
Holiday Treat: Gelatin Surprise!
Top 5 Bobbies We'd Love to Rescue Us
Special Nick Lightbearer Issue's Cover Lines
Edit
The Golden God of Rock n Roll
Quiz! - Could YOU be Nick's Biggest Fan?
Mystery Girl - Who is Nick's Newest Song About?
Everybody Wants To Be Nick
Light Us Up! - Nick Tells What Makes Him Happy
Both covers were designed by Sarah Hamilton, a Concept Artist/Illustrator at Compulsion Games.[1]
References
Edit
Community content is available under
CC-BY-SA
unless otherwise noted.