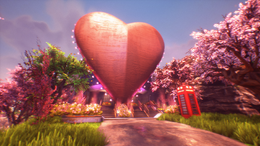 Salamanca Bridge is the bridge connecting the Garden District to Hamlyn Village.
The story quest, Oh, Behave!, takes place on the bridge, it doesn't appear in any of the other Acts.
Events of We Happy Few Edit
Arthur heads to Salamanca Bridge as a way for him to get closer to escaping Wellington Wells, posing as an undercover bridge inspector. The bobby, Constable Wright, tells Arthur that the doors are broken, not wanting to let any Downers to come back to Maidenholm. After a bit of persuasion, Arthur is allowed to enter.
Inside of the bridge, Arthur is forced to go through the rehabilitation test as he doesn't have the card on him to skip the area. This is where the player learns of how Joy works as well as how to fit in with the residents in Maidenholm.
Once Arthur escapes the never-ending Oh, Behave! quiz, he is welcomed back into Hamlyn Village from the Wellies. Completing the quest.
The bridge name is a reference to the Battle of Salamanca in July 22nd, 1812. Anglo-Portuguese army led by the Duke of Wellington defeated Marshal Auguste Marmont's French forces at Arapiles south of Salamanca, during the Peninsular War (1807-1814).
Community content is available under
CC-BY-SA
unless otherwise noted.