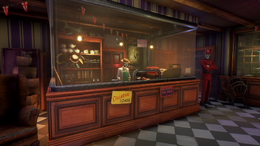 The Odds & Ends Shop is a trade grocery store in Hamlyn Village, where players can trade or buy items from Lionel Castershire.
Bartering
Edit
These are items that the player can buy from the shop
Events of We Happy FewEdit
Arthur Hastings visits the Odds & Ends to see Lionel Castershire. There he's tasked with multiple side quests to complete, the first one is finding three golden records in the Garden District, the next one is gathering a genuine marble cat statue from the Thomasina House and, lastly, help defend Lione'ls store from a group of Plough Boys.
Sally Boyle visits the Odds & Ends to get tinned milk from Lionel Castershire. Since milk doesn't get imported into Wellington Wells anymore, the price for it has gone up. He agrees to give twn bottles to her once she gathers three Uncle Jack records from the Garden District. She will ask him to build a baby feeder and a baby transport bag for Gwen, they take approximately 2 days to be done.
Act Three
Edit
Ollie Starkey is tasked by Lionel to get five Onyx Cats for a customer, in return he gets the Fireman's Coat. Ollie can later be tasked by The Shady Dealer to go to the shop at night to beat up Lionel's Bobby, claiming that Lionel steals from his clients.
The name of the store Odds & Ends is a noun for miscellaneous articles or remnants.
If Ollie talks to Lionel after beating up his bobby, he will ask if Ollie has seen him, to which Ollie responds with "no".
The Odds & Ends reappears in Inis Holm during the They Came From Below DLC. This time run by Vivien Eastwood.
Community content is available under
CC-BY-SA
unless otherwise noted.