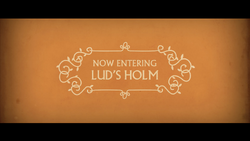 Lud's Holm is a location in Wellington Wells, and is part of the Garden District.
It is the fourth location the player visits in Act I, while being the only island consisting of the Garden District in Act II and III.
Overview

[

]
The appearance of Lud's Holm differs a little between the Acts, but remains as the largest Holm in the Garden District.
As well as that, Lud's Holm is also the most dangerous Holm. For unlike Eel Pie Holm, the entirety of Lud's Holm is infected with a Plague that is slowly spreading to the rest of Wellington Wells.
Most Wastrels in Lud's Holm are infected with the plague, and are intent on killing anybody who is not infected. In Act I and II, they only come out during the night, but in Act III, the Plagues Wastrels can be seen attacking Wellies during the day in the Parade District.
The plague can be traced back to Histoplasma Mushrooms, mutant mushrooms that have been eaten by Wastrels out of desperation because of the severe food shortage.
Because of this, not only did the plague emerge, but also cults such as the Yam Cult and the Space God People.
Point of Interest
[
]
Be aware that these locations may change depending on the Act.
Story
[
]
Act I
[
]
During Act I, Arthur travels to Lud's Holm in order to visit Dr. Faraday and obtain help with fixing the bridge to St. George's Holm. After finding Dr. Faraday's house and entering it, Arthur is commissioned by Faraday to collect various items from throughout Lud's Holm for her machine to allow her to escape from Wellington Wells.
During this quest, Arthur obtains both the Motilene Harvester and the Extractor and uses them to gather a bucket of Motilene and a collection of machine parts for Faraday. After Faraday receives the needed items, she tells Arthur to come back the next day and closes the shutters to her workshop.
After Arthur leaves the house, however, a large explosion goes off and a big beam of energy beings emanating from the house towards the sky. Arthur, concerned about Faraday's well being, goes back indoors to check up on Dr. Faraday, only to discover that she has vanished completely. After searching the workshop, Arthur finds a note left for him by Faraday, telling him to try rebooting the bridge controls by turning them off and on again.
Arthur, angered by everything he had to go through to get this information, departs off from Lud's Holm towards St. George's Holm.
Act II
[
]
During Act II, Sally travels to Lud's Holm to get her old chemistry set that she left from her old home. Finding the house boarded up, Sally sneaks in triggering a flashback to her finding her mother poisoned herself and the rest of the family. After this Sally makes her way to her old bedroom, while avoiding plague wastrels lurking inside.
Collecting the chemistry set, she escapes the house and heads back to St. George's Holm.
After this, she returns to Lud's Holm in order to gather ingredients necessary to synthesize Blackberry Joy, which leads her down a rabbit hole in which she has to help the Weird Sisters with doing a variety of things for them, eventually figuring out that the Space God People are attempting a mass suicide.
Once Sally's gotten all of the ingredients, she returns to St. George's Holm.
Act III
[
]
Ollie escapes from his old home at the Train Station after the Headboys blew the whole building up. After that, he goes on his way to confront General Byng about the fake German tanks, but in order to do that, he has to rescue and get information from Pte. Burton.
After he's confronted General Byng at the Victory Memorial Camp, Ollie decides to head into Hamlyn Village in order to talk some sense into General Byng's daughter, Victoria Byng.
Quests
[
]
Act I
[
]
Act II
[
]
Story Quests
[
]
Side Quests
[
]
Act III
[
]
Story Quests
[
]
Side Quests
[
]
Shops
[
]
Johnny Bolton's Shop (Located in the central section, in a treehouse in the middle of a street roundel)
Trivia

[

]
Lud's Holm is named after King Lud, who was king of Britain in pre-Roman times and founder of London.
Gallery

[

]