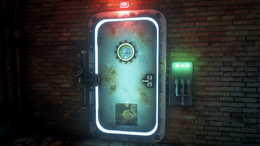 Fast Travel is a game mechanic in We Happy Few that let's the player travel to a safe house at any time. If playing as Arthur, the player will encounter their first Fast Travel location when playing through the tutorial island.
Overview

[

]

To travel somewhere, the player can open up their map and click the blue arrow pointing downwards, this should give the player a prompt asking them if they want to travel there. If the player is in a safe house, they have to interact with the door.
In order to actually travel, the player will need an active hatch. Most hatches will need to be activated first before the player can use them.
Exceptions
[
]
The player cannot fast travel if they're overburdened, in combat, bleeding, falling, dying, or in a set location (Houses/Departments/Sally's House/Hatches).
Fast Travel Locations
[
]
There's a total of 9 fast travel locations in Wellington Wells. 12 including special locations such as Barrow Holm or Ratholm.
Depending on the Act, the amount of hatches may vary. The exact location of the hatches change with every new game, but they can all be located by going through their respective side quests.
Garden District

[

]
Hamlyn Village

[

]
Other

[

]
Trivia

[

]
Fast Travel was implemented on the 17th August, 2017.