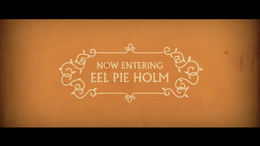 Eel Pie Holm is a location in Wellington Wells, and is part of the Garden District.
It is the second location the player visits, and the first open Holm the player can explore in Act I.
Eel Pie Holm does not appear in Act II or III.
Overview

[

]
Eel Pie Holm consists of three small sections that all connects to each other through roads, the center of the Holm connects to Maidenholm via Salamanca Bridge.
Eel Pie Holm is perhaps one of the safest Holms the player will ever set foot in, as unlike Lud's Holm, it isn't ravaged by the Plague.
This is the first randomly generated island the player will come across, and the first area that the player can freely explore as they wish.
Eel Pie Holm only appears in Act I, and will never appear again in any of the other acts. Although, the hatches may say they're from Eel Pie Holm, despite being in Lud's Holm.
Points of Interest
[
]
Quests
[
]
Story Quests
[
]
Side Quests
[
]
Trivia

[

]
Eel Pie Holm may be a reference to Eel Pie Island, a real island that is located in the River Thames at Twickenham, whose name itself comes from eel pies (also known as 'pie and mash') that were served by the inn on the island during the 19th century.
Gallery

[

]