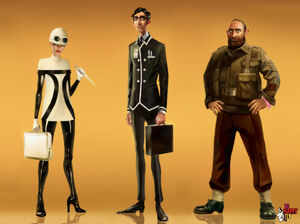 Downers are particular people who are not "on Joy" and are also the three playable characters of We Happy Few.
Description
Edit
The term Downer is commonly used by Wellies to indicate a person who doesn't take Joy pills and, as the name suggests, is in a bad mood. Because of the opposite behavior, Downers are hated and hunted by Wellies who try to get rid of them. Downers also begin to remember more of their past, making them a threat to Wellington Wells and its hidden past.
Downers are not to be confused with Wastrels, who are immune to the effects of Joy and also get sick from taking it.
Events of We Happy FewEdit
All three of the main characters, Arthur, Sally, and Ollie, are Downers. Though they are Downers for different reasons, they all have one thing in common: the need to escape from Wellington Wells. A mechanic in the game for each of the characters is picking up "lost" memories that are scattered across Wellington Wells. While these don't reveal major secrets, they allude to many major events of the past, hinting at the main characters' guilty feelings. Also, in certain scripted events, Arthur, the first playable character, will experience flashbacks once making progress in certain areas. For much of the game these Downers deal with self-discovery, which is a far more painful process than they had realized.
Gameplay
Edit
These characters can be impaired from taking too much Joy, affecting their skills and abilities to do things. It will also be noticeable to Wellies, Bobbies, and most especially Joy Doctors. Wastrels also seem to mind when people are on Joy. In addition to everything else, Joy Doctors can notice when the main characters are off of their Joy, except for in special circumstances and possibly when taking "Daytripper."
Many characters mentioned and met in the game besides the main characters exhibit symptoms of being a Downer. Prudence Holmes is one such Downer, who tries to escape Wellington Wells but gets killed in a collapsed underground tunnel. Another is Gemma Olsen, a reporter who exposes Anton Verloc's crimes only to be captured and used for human experimentation, and eventually escapes.

While not explicitly stated that they are Downers, these characters act as though they are remembering things and are off their Joy.