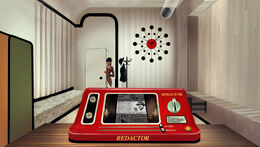 Department of Archives, Printing & Recycling is a newspaper office in the Parade District.
Arthur Hastings was an editor there, until remembering his brother Percy from a newspaper clipping and choosing to go off his Joy. The game starts at Arthur's window view office space. It is run by Victoria Byng.
The Department of Archives, Printing & Recycling was founded before the occupation of Wellington Wells and are rivals of The Hamlyn "O" Courant Newspaper. Their views of journalism differ greatly. In 1947, when the citizens hanged three people accused of burning the registry, they labelled them as traitors. While the "O" Courant opposed against this.
During that time the Old Government Printing Office in Hamlyn Village was shut down. After Joy became public, the department began to "censor" old newspaper articles. Covering up any "negative" article pieces such as the Authority Project.
Employees
Edit
When off Joy, it's revealed that they're very behind schedule in their work. Unfilled paperwork, a broken tube channel, nobody working and editors out for lunch.
Arthur was awarded Employee Of The Year for his work effect.
A wooden plaque of the We Happy Few Logo can be found.
While the location of the department is easily determined, the player never has the chance to get into the department again.
Community content is available under
CC-BY-SA
unless otherwise noted.