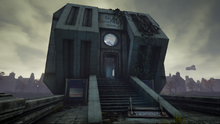 Blenheim Bridge
, or
Lud's Bridge
, is a removed
bridge
present during the earlier stages of
We Happy Few
.
It's one of the few alternative bridges that can appear during each random map generation. It connects Eel Pie Holm to Lud's Holm.
The player had to repair a broken pipe and place a valve in order to pass through, each of which would've been found by the Wastrels gathered around a broken pump.
After gaining these two items, the player could return to the bridge and repair it. After gaining access through the door, they would've had to drop down a hole in the floor, as the main door was locked. Underneath the floor was three plagued wastrels, one of which was hanging from a noose.
The player had to get to the other side and climb up a few large pipes to get through, after which they were free to pass through.
In the final game, the Wastrels that need the pump fixed is its own separate quest only accessed by Sally Boyle. And Lud's Bridge has since been renamed to what it's now known today as, Megiddo Bridge.
If the player had contracted plague by the wastrels, they would've found a Phenocycline Jab and its recipe on the other side, along with a Constable stabbed with said syringes under the desk.
Under the floor is a small dresser that is, for whatever reason, colored blue on the sides. It's the only dresser in the entire game that does not have the regular wooden appearance.
The constable is shown with both his first- and surname, which is randomly generated.
Community content is available under
CC-BY-SA
unless otherwise noted.