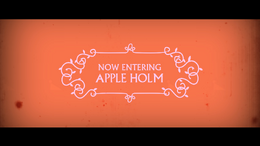 Apple Holm is a location in Wellington Wells, and is the last Holm the player visits before making their escape out of town.
Overview

[

]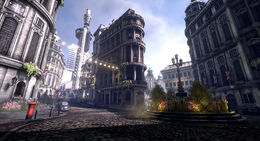 Apple Holm is the one and only Holm in the Parade District, consisting of the whole island.
There are no side-alleys like in Hamlyn Village to duck into and, as such, there's little to no hiding spots available.
However, along the roads are non-functional buses and cars. The player can unlock and open the trunks of the cars to hide in them.
There's a number of small parks located off the beaten path, which contain Rose of Gilead Bushes, Rowan Berry Bushes or Blue Currant Bushes. There's also Flower Pots near the houses, they cannot be found much elsewhere in the city.
Point of Interest
[
]
Damnation Alley
Document Control Centre
Bridges
[
]
Story Quests
[
]
Act I
Act III
Side Quests
[
]
Act I
Shops
[
]
Vending Machines: Found inside the Hospital lobby, Document Control, the Broadcast Tower lobby and in some places near the streets.
The Chipping Market, to the right of the Wellington Wells Health Institute. The player can buy various items from the three shopkeepers.