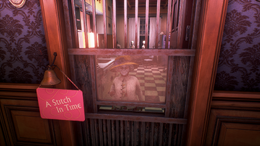 A Stitch in Time is a small tailor's shop run by Mrs Pankhurst, located on the second floor of the Corner Pub in St. George's Holm. In Act II, Sally Boyle can unlock the side quest, Alterations, by stopping to read the sign out the front.
This store only appears in Act II as Sally is unable to craft clothing items for herself.
Appearance
Edit
Inside of her apartment is two bags of sugar, nine mannequins, four sewing kits that cannot be picked up, "Coffee" beans that can be picked up at a certain angle, seven cupboards that can be interacted with, a Fridge, a Waste Bin, a bedroom and a bathroom.
Bartering
Edit
The name of store A Stitch in Time, is a phrase meaning that it is better to act or deal with problems immediately then later wait and deal with it later.
Community content is available under
CC-BY-SA
unless otherwise noted.